What is a business metric?
A business metric is a quantifiable measure used to track and assess the status or performance of a specific business function. Metrics are used to measure progress toward short and long-term goals and objectives.
Every area of the business has specific metrics to monitor:
Finance teams track revenue metrics like MRR or customer acquisition cost.

Executive teams track big-picture business metrics like customer lifetime value or annual recurring revenue.

Marketing teams track campaign performance and program statistics with engagement rates and marketing-qualified leads.

Sales team track won opportunities and expansion revenue.
Business Metric or Key Performance Indicator? What's the difference?
What's the difference between a metric, a measure, and a KPI? Metrics are the units of measurement used in KPIs. KPIs, or key performance indicators, are metrics with a target and timeline baked into them. KPIs are the action; metrics are the measurement.
Business metrics are most effective when compared against established benchmarks or business objectives. Benchmarks can be internal, external, performance, or industry-established, providing context for the metric.
Context inspires action and impact. For example, $20M in Q4 sounds impressive, but if you're a Fortune 500 company, that figure might worry you.
The most significant difference lies in the context between metrics and key performance indicators.
The difference is:
Business metrics are used to track performance across all areas of the business.

KPIs track your progress toward a goal.

In action, this would look like this:
A metric measures web traffic compared to a goal or benchmark. A KPI measures how web traffic impacts your SQL pipeline.

Here are a few additional resources to answer any KPI questions, like what is a KPI? and why are KPIs important?
EXAMPLE OF BUSINESS METRICS
The business metrics you track will depend on your company and focus areas. Check out the performance metrics for industry verticals and departments below to get started. For more inspiration and deep dives into specific metrics, check out MetricHQ.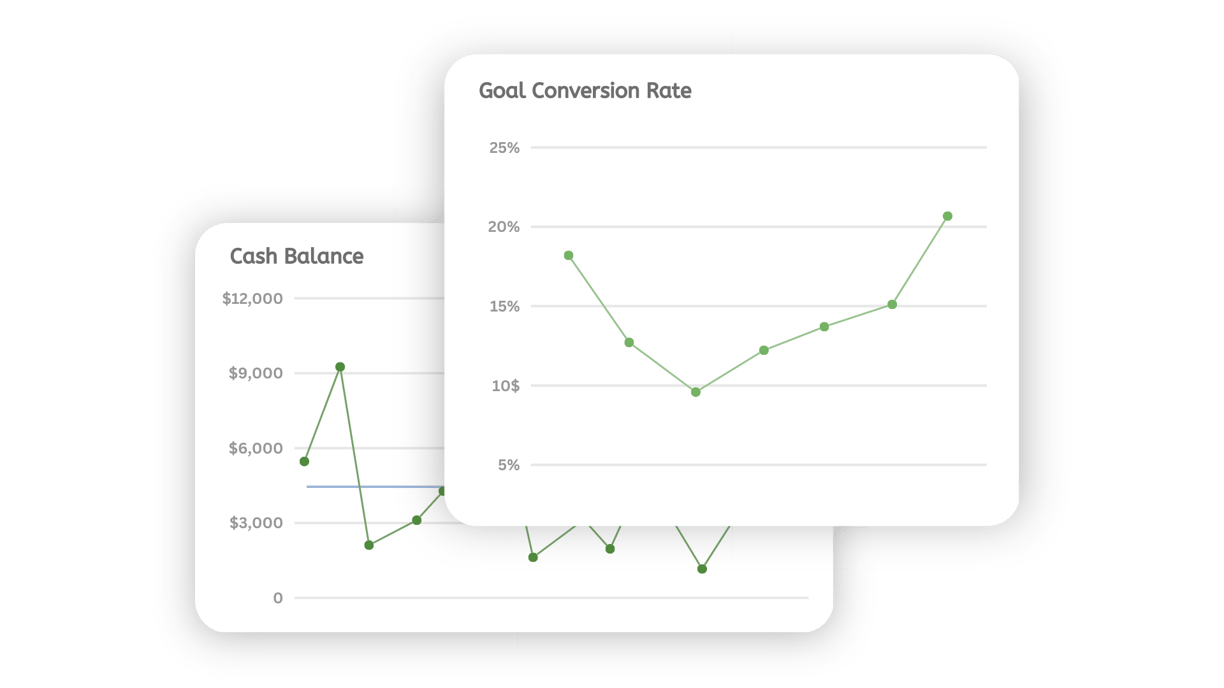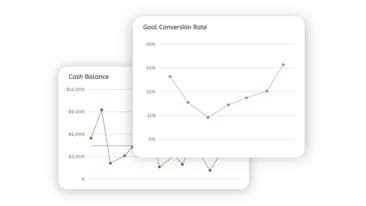 Companies rely on revenue to stay in business and managing and tracking that revenue is a core function of your finance team. Financial metrics carry weight outside your team, too. Potential data.
Fiscal health is a key aspect of any business. Here are the financial metrics to monitor and track the health of your business and your bank account:
Current Ratio

Gross Margin

Net Burn

Net Profit

Revenue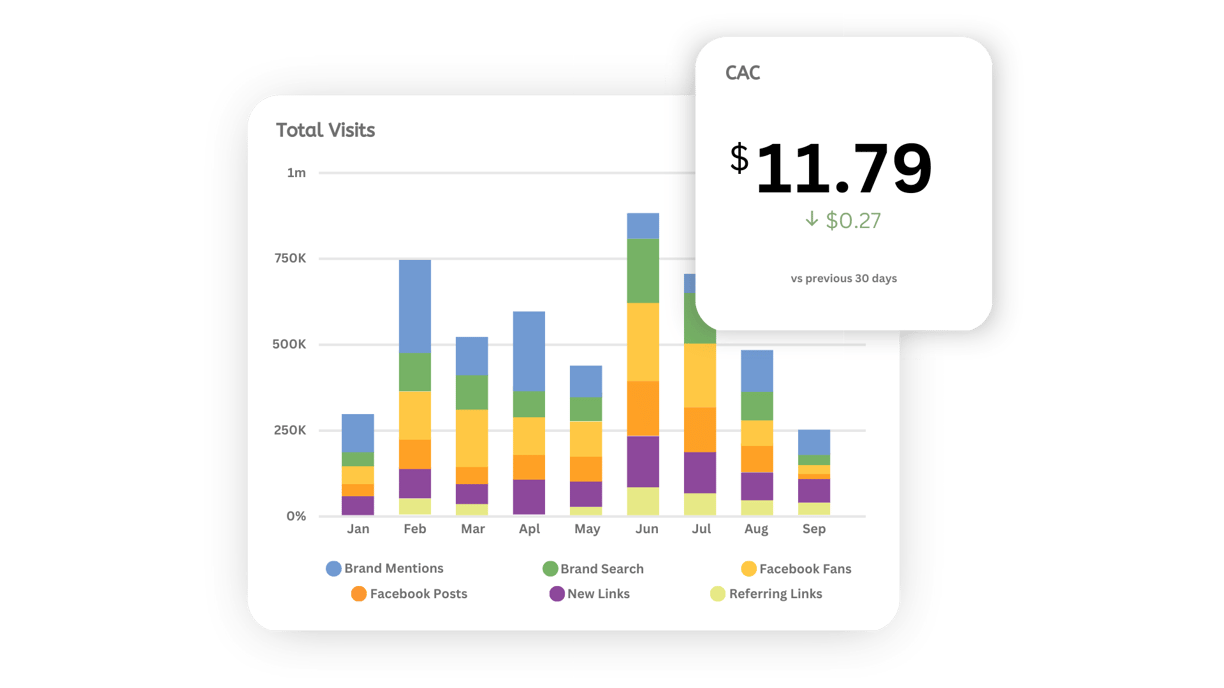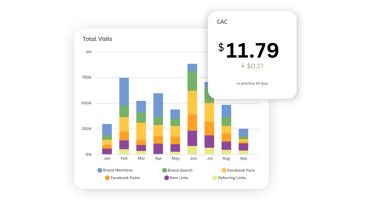 Marketing metrics are used by marketing teams to monitor and display the overall performance of social media channels and marketing campaigns like email or advertising.
Marketing is a data-driven practice with any number of channels and platforms. The metrics you monitor will vary Depending on the channels your team uses and your goals and objectives with each. Here are a few examples of key marking metrics:
Average Time on Page

Lead Conversion Rate

Customer Acquisition Cost

Marketing Qualified Leads

Return on Marketing Investment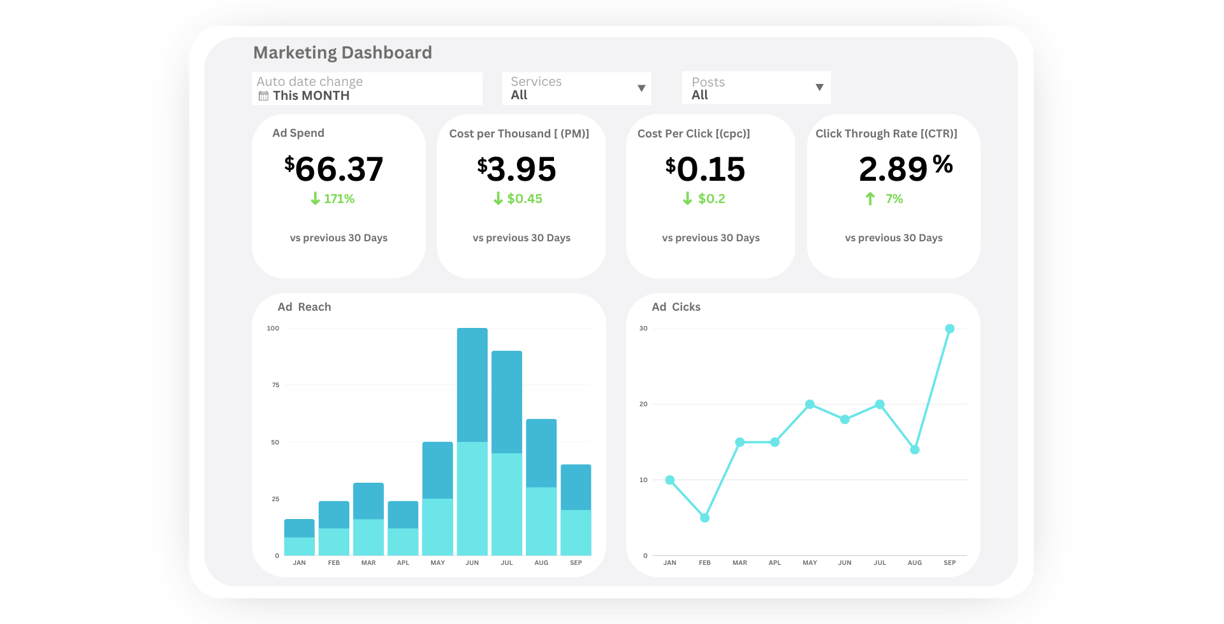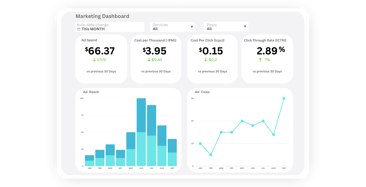 Sales teams, like marketing, rely on data to make decisions and develop a sales strategy. Sale team is monitoring their pipeline, tracking their sales qualified leads (SQLs), and watching MRR grow and expand. Sales is a competitive business environment, so controlling your data is key. Tracking the right metrics and KPIs will lead you to success. Here are the sales metrics measured by world-class sales teams:
Leads

Lead to Win Rate

Won Opportunities

MRR Growth Rate

Revenue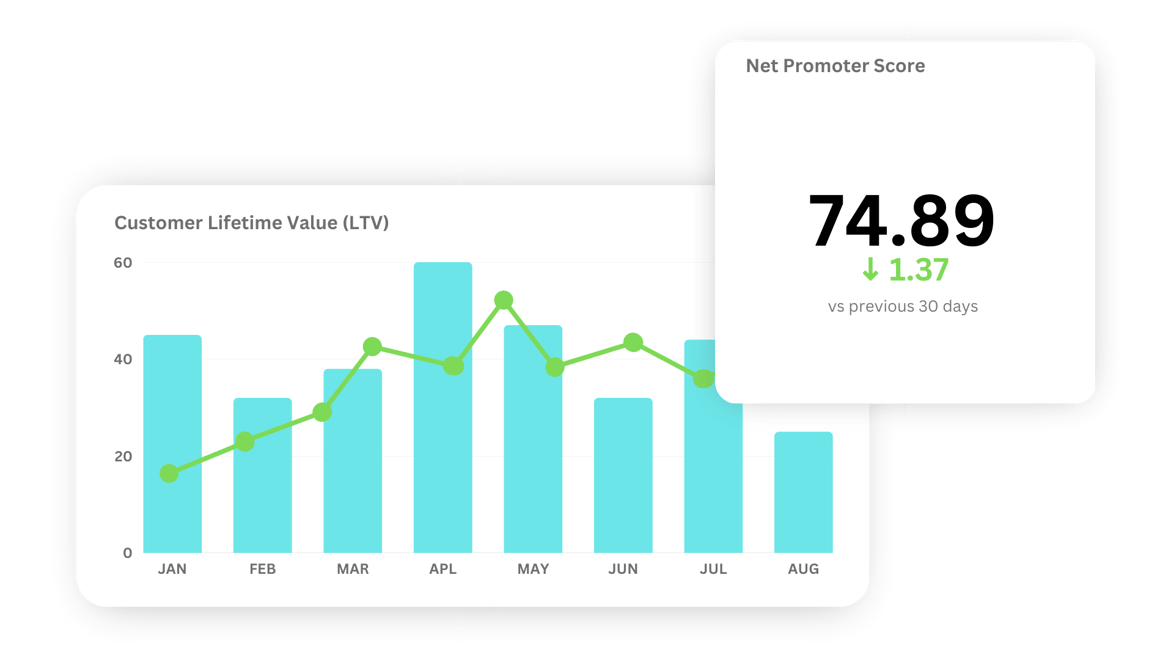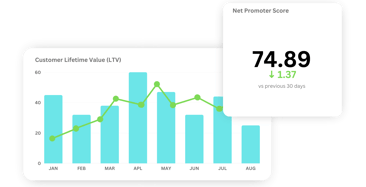 SaaS (software as a service) companies pay close attention to the metrics that monitor customer retention, recurring revenue, and user engagement in your product. Here are five SaaS metrics that cross-function teams track:
Customer Lifetime Value (LTV)

Churn

Monthly Recurring Revenue (MRR)

Customer Retention Rate

Daily Active Users or Monthly Active Users
Social media metrics track performance and engagement on Twitter, Instagram, TikTok, or Facebook.
Social media marketing is a fundamental component of any marketing strategy. Awareness and engagement campaigns are used to drive traffic to your website, generate leads, and at its core: get people talking about your brand.
With so many platforms to monitor, measureing performance across all of them can be challenging. Here are five key metrics you can track across all channels:
Account reach

Followers

Comments

Post Engagement Rates

Video views
Every business has data that is to monitor to capture your full business funnel.
MetricHQ is a full library of metrics you can explore for inspiration and start tracking in power Metrics.
Monitor Your Performance With a Business Metrics Dashboard
Business performance metrics keep teams, executives, investors, and customers informed and of performance and growth. The easiest and most effective way to stay on top of your company's performance is by having your key metrics on a business dashboard. Different departments need to keep an eye on different metrics so that the right business dashboard will vary from department to department, and from company to company.